Filing fills most people with dread because they think it is the most BORING thing on earth.  Granted, filing is not sexy, but if you want an efficient office, you need to learn how to file.
There's nothing mysterious about filing.  Remember that filing is a method of RETRIEVAL, not a method of storage. Name your files according to how you would LOOK for them.  Name them using  the first thing that pops into your head.  A file name could be "Did I call these people?" Don't overthink it.  Broad categories and simple names are better than highly specific complicated names.  Trust me on this.
But first, you need the proper tools.  Just like file names, plain and simple is best.  The following items are the "little black dress" of filing systems – indispensible and never out of style.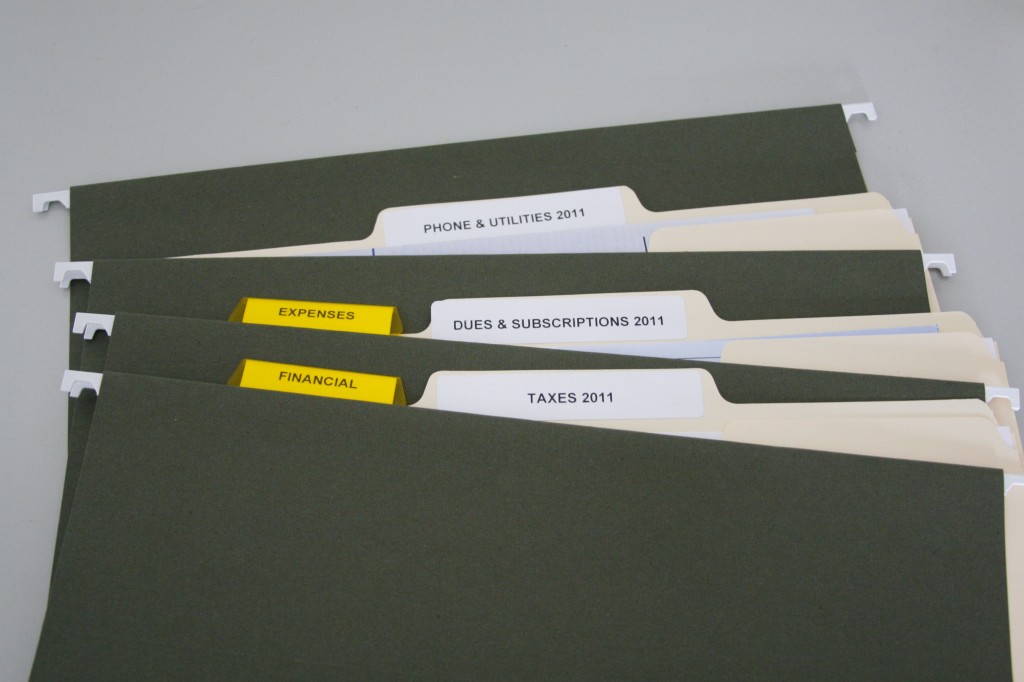 Manilla File Folders
Many pre-made filing systems use color-coding as a way to categorize files.  There is much to be said in favor of color-coding: files are easy to find, visual thinkers respond to color, and color is pretty.
However, what happens if you're out of  bright blue file folders and you have papers that are in the bright blue category?  You use what's on hand, and if that's yellow, your color coding will soon be out of whack.  What happens if bright blue is discontinued or becomes harder to find?  You will either have to convert all the bright blue files to a new color or end up with a rainbow of folders in the drawer.
Stick to the basics.  Plain manilla file folders are widely available and easy to match.
Army Green Hanging Files
The mainstay of many filing systems are dark green hanging files.  Like manilla file folders, dark green hanging files are widely available.  Their dark color allows them to fade into the background, making files and file labels easy to see.
However, beware of store brands and discount brands.  The spacing of the tabs don't always match up and are inconsistent in size.  You want your file tabs to line up, not meander lazily down the drawer. Buy name brand hanging files, like Pendaflex, which are sturdy, long-lasting and guaranteed.
Colored File Tabs
Go wild with color with hanging file tabs. Your tab headings will seldom change from year to year, unlike individual files. Use one color for all the household files, use another for active files, and another for reference.  Be careful with dark colors, especially red, which can be hard to read.
Print Your Labels
You may have the neatest handwriting of all time, but what happens when that nice black marker you use to write labels runs dry? File folder labels and hanging tab inserts printed out on the computer make your file drawer look professional.  Plus, they are easier to read.
Avery sells sheets of 30 file folder labels and downloadable templates.  Use upper-case, 14 pt bold type for your labels.  Once you've typed all the names, save the label document, and next year all you need to do is "Find and Replace" the old year with the new.
Avery also has a template for the smaller sheets of six labels.  If you only have one or two new files to label, use the small sheet in your printer's manual feed.