Like many of you, I work from home.  My home is a tiny 800 square foot cottage in Venice, California.  My office is the larger of two bedrooms – about 120 square feet – in the front of the house.
The room evolved from a guest room into a home office when I left my executive corporate job and started working from home.  At first I worked in sales for a technology company in northern California.  The technology company paid for a high quality filing cabinet and desk chair.  The rest I bought or repurposed.
Now that I work for myself and specialize in home offices as a professional organizer, it was time to take a hard look at my set up.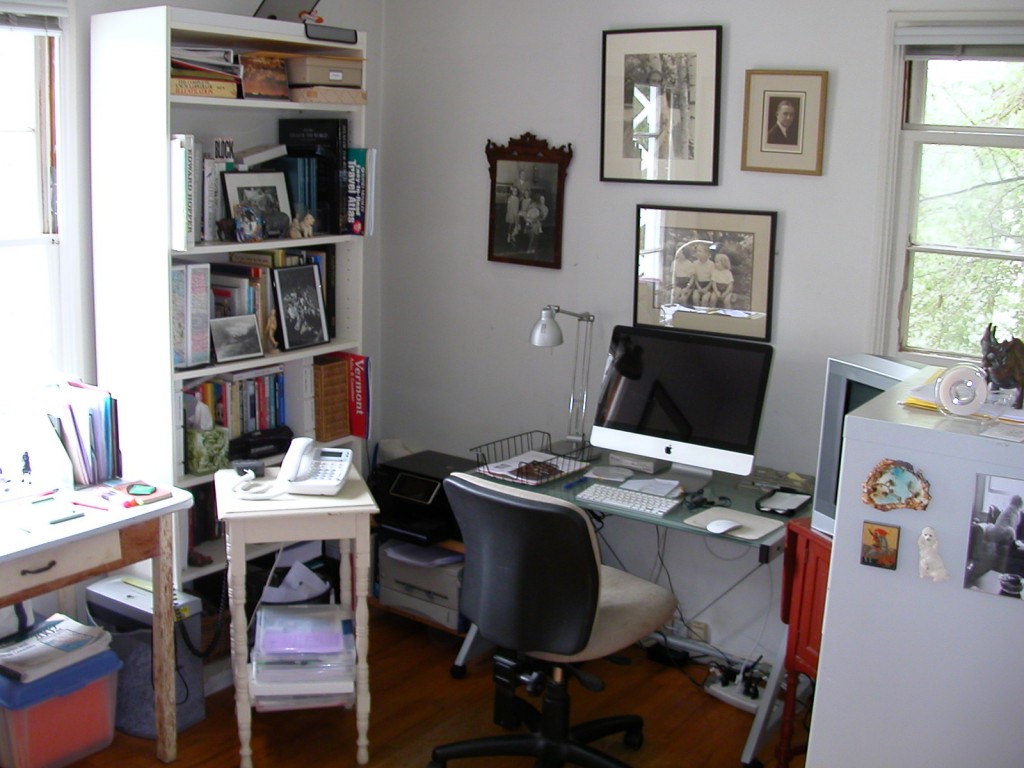 What Worked
Light: The room has a southeast exposure with good natural light from two large windows
Furniture: the computer desk, writing table, and file cabinet worked well and didn't need replacing
Equipment: I had a new computer, printer and scanner
Files: my files were easily accessible from my primary work station
What Didn't Work
Space:  The bed was placed in front of the door, creating a barrier to entrance.  My computer desk faced the far wall which exposed my back to the room.  When working, I could not see the door. Both placements were bad feng shui.
Storage:  The Ikea bookshelf had outgrown its usefulness.  Even with regular purges it was overflowing.  I had odd-shaped equipment – a light box, two paper cutters, a tripod – that didn't fit on the shelves and were stored in a hard to access corner. The vertical space was under-utilized.
Goals
Make the office seem more spacious and inviting
Increase storage space without increasing square footage
Create a visually pleasing, calm work environment
Constraints
The room had to continue to function as an occasional guest room
The closet could not be used for office items
Entrance door, closet doors and two windows limited where furniture could be placed
Next: Making a Plan