You've written the holiday letter and it's ready to go.  How are you going to send it to your friends?  You could enter your friends' emails one by one in the "To" box, or you could simply click on a pre-arranged group containing all your holiday recipients.
First, you need to have your friends and acquaintances entered into your Contacts.
Use an electronic address book
If you have already entered all your contacts into your email software – Outlook, Apple Mail, Entourage or Gmail – you're ahead of the game. If you have hand-written addresses in a book or on scraps of paper, now is the time to enter them electronically onto your computer.
We're talking here about email addresses, but you should also enter all the info you have, including street address and phone number. It's not difficult, just a little tedious.
 Note:  Even if you have been sending email to a friend, it doesn't necessarily mean they are in your contacts. Double-check and make sure you have entered their full name.  That way, when you receive email from them, their name will display after "From" not just the email address.
How to find your contacts list
Outlook/Entourage have an Address Book built into the software.   Apple has a separate Address Book.  In Gmail, click on the drop-down menu next to "Gmail" in the upper left hand corner, and select "Contacts."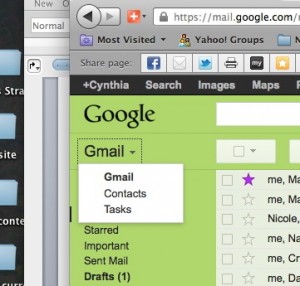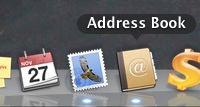 Adding Contacts
Once you've found your address book, look for the drop-down menu or symbol (always + for Apple) to add a new contact.  Then start typing in your contacts.  Doing it yourself will help you weed out old information and make sure you are current on everyone.   If you want to delegate this task, pay your high-schooler or neighbor's teenager a nominal fee to do it for you.
Create a group
Once all your contacts are entered, you can create groups . Groups help you streamline mailings to multiple people.  If you regularly send email to defined groups of people, like a board of directors, co-workers, neighborhood watch, or family members, you can sort them into groups.
Look for the drop-down menu under "New" and click on Group.  Name the group, then add members by either drag and drop, or typing in the names.  Your email program will prompt you.  Make and name a group for the recipients of your holiday letter.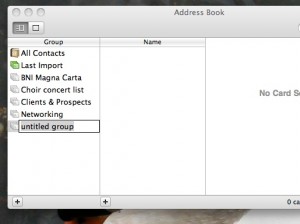 Now it's easy to select the names by selecting the group.  Hit "Send" and you're done!