I like Facebook.  I enjoy seeing what my friends are up to and viewing their photos.
What I don't enjoy is scrolling through posting after posting of game play or other activity to get to the updates I want to read.  Or, finding out later that a friend posted pictures that somehow never made it to my newsfeed.  What gives?
You can control the number and type of updates you receive from your friends by changing your Friends' Settings. 
On your newsfeed, go to an update and hover your mouse over your friend's name.  A box will pop up with that person's photo and name and two boxes in the lower right: Friends and Message.
Hover on Friends and another box will pop up.  Click on Settings and you'll get a checklist.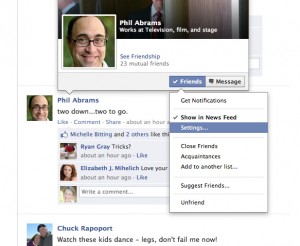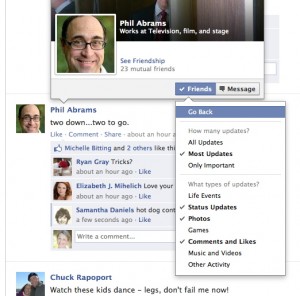 The first checklist is "How many updates?" 

All Updates (I check this one for my closest friends)
Most Updates (the default setting)
Only Important (although I don't know how facebook determines importance.)
The second and equally important checklist is "What types of updates?" This is where you can eliminate the dross.

Life Events (not sure what this is)
Status Updates (Yes, this is the reason I'm on facebook)
Photos (I like looking at photos)
Games (I don't play, I don't want to see others play)
Comments and Likes (I can see these in the Ticker)
Music and Videos (I like videos, but the Spotify updates are annoying)
Other Activity (nope)
Make a practice of checking your Settings for each friend as their updates appear on your newsfeed.
Just by following these simple steps, you can cut down on the amount of information that fills your Newsfeed.