How do you handle your mail?
Do you put it on a pile to deal with later?
Do you receive catalogs from stores you never heard of?
Do you subscribe to magazines you never read?
Do you lose bills and end up paying late fees?
If you answered yes, keep reading!
1. The Circular File
The most important tool in mail management is your wastebasket.  As soon as the mail comes in the house, sort it next to a wastebasket and have a shredder nearby. Immediately toss the junk mail, flyers, and promotions. Shred the credit card solicitations.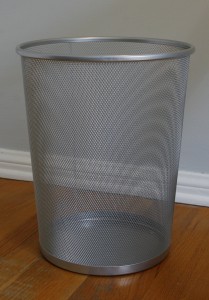 2. Magazines and Catalogs
Critically evaluate your magazine subscriptions.  Are you reading them, or do they pile up week after week?  If you do value them, can you subscribe to a digital version instead of print? If you haven't opened the magazine by the time the next issue arrives, perhaps it's time to let the subscription lapse.
Sometimes it's beneficial to browse a catalog.  If you see an item you might buy, circle the item, tear out the page and set it by your computer to order online. Even better, stop receiving unsolicited catalogs by using a service like Catalog Choice and shop online only.
3. TRAF it!
Stephanie Wilson describes the TRAF sorting system (think "traffic") to keep incoming paper or mail from piling up. TRAF stands for Toss-Refer-Act-File.  Toss the obvious junk.  Refer mail for someone else or if it requires discussion with someone else. Act are things that demand an action – a bill to pay, a phone call to make, an invitation to RSVP, or an event to put on your calendar.  File is for magazines or catalogs you may keep for later use.
4. Special Section: Holiday Cards
Pull out the card and throw out the envelope.  If you need the address, enter it NOW in your contacts. Don't save it for later — later will never come.
Display your cards pinned to a ribbon hanging from your mantle, set out on a table, stacked in a decorative bowl, or however fits your holiday decor.
After the holidays and no later than the first week of January, go through the cards. Don't keep every card!  You can cut the cover off the prettiest cards if there is no message on the back and use them next year as gift cards.  If there is a holiday letter you want to save (really?), scan the letter and save it electronically.  Do the same with photo cards if they are meaningful to you.  Holiday cards are ephemeral — treat them as such.
Start sorting, discarding and handling your mail on a daily basis.  Before you know it, you'll feel a much greater sense of control over everything that comes in the house!