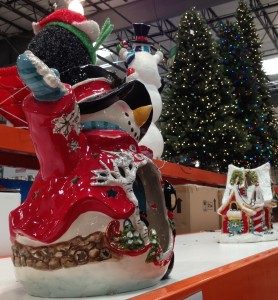 OMG! The holidays are looming. I'm still eating Hallowe'en candy and Christmas has been in Costco for weeks. Start working on your holiday greetings now and you can check one thing off your list!
When should it go out?
There's a crush of mail around the holidays and your message may be buried. Most people use holiday mailings to summarize the highlights of the past year. Nobody said it had to be at Christmas. Send out a Thanksgiving card before things get hectic, or a New Year's card later in January. Start a tradition of the President's Day card. I have a friend who sends her annual greetings on St. Patrick's Day.  Be creative!
Who you gonna mail?
First think numbers. How many messages can you or do you want to send out? There may be financial considerations – the cost of producing the card and/or the cost of distributing it. Next, review your contacts list. Make sure you have the most current email and snail mail addresses. Most contacts software – including iphone – will let you set up groups, or sub-sets of your contacts. Make a "Holiday Greetings" group and populate it with selected friends and family. Bingo. You have a mailing list!
What will it look like?
I don't know about you, but I like getting something I can hold in my hand. In these digital days, mail delivered to your door is special. However, not everyone feels the same way.  Choose any of these:
Good old-fashioned printed card
A custom photocard
Printed or digital letter
Printed or digital photo montage
Online photo album with a holiday message
Commercial e-card from a service like Jacquie Lawson
Custom e-card
But I can't think of anything to say!
Create a holiday card folder at your desk or on your computer. Write a paragraph to describe vacations and events as they happen. Choose a few photos that best capture each experience. Save them all to your holiday folder. When you sit down to compose your annual message, all your material is in one place.
Remember, you don't have to list every single thing you and your family did during the past year. Select one or two memorable events. If it was important to you, it's important enough to share with your friends.
For more tips, go to Organize Your Holiday Letter and Your Holiday Checklist