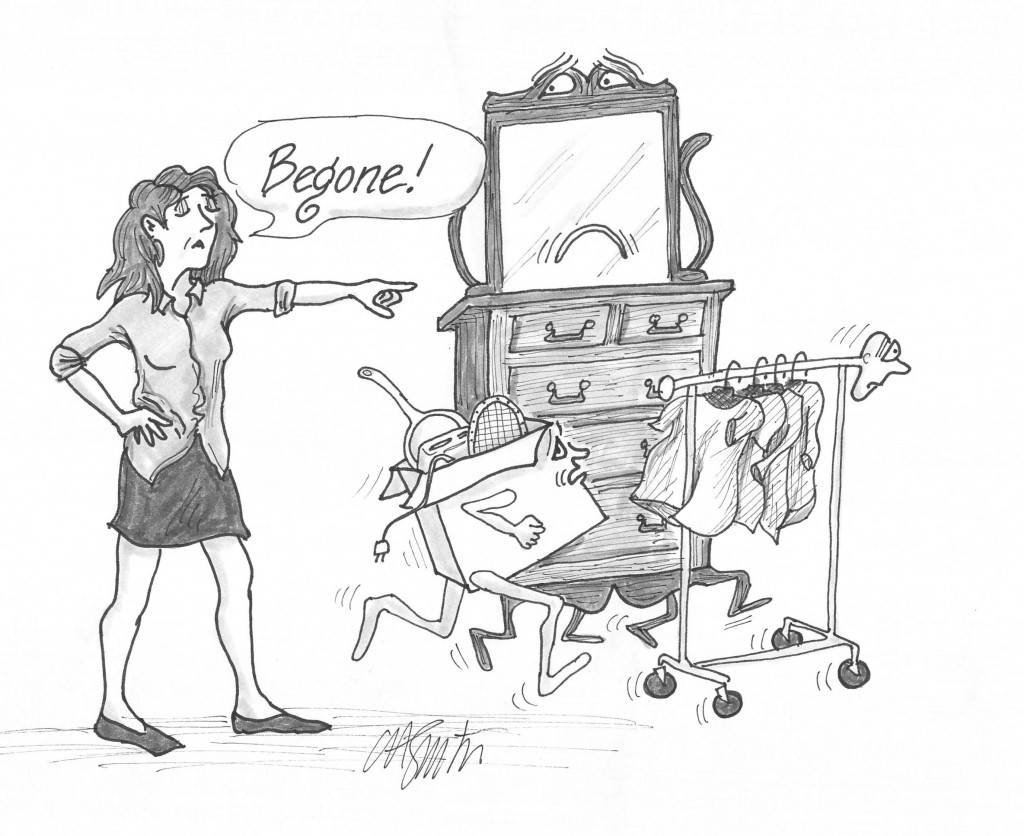 This is the nitty-gritty of downsizing – paring down your possessions.   All the planning in the world is useless until you actually carry things out of the house… and keep them out!
We talked about the emotional component of untethering yourself from your stuff. Keep this in mind as you start going through your belongings. Acknowledge the emotions, take breaks, and remind yourself that stuff matters little. It is liberating to let go and create white space in your life. Remember the 80-20 rule – we use only 20% of what we own. The rest is just taking up room.
Set a deadline
Tell yourself, "I have until February to decide what to keep, then it all goes to auction, donation or trash." A deadline will inject urgency into the project. Make it realistic and stick to it.
Hire professionals
If you have antiques or art you believe has value, hire an appraiser to assess the current market value. Be prepared to be disappointed. As of this writing, the "brown furniture" many of us grew up with has little resale value. You may have paid top dollar for well-made, hardwood pieces, but if no one wants to buy them, they have no intrinsic value. Instead, reflect on the pleasure they gave you and the pleasure they may give someone else as a donation.
Identify your treasures
What pieces do you truly love and need? Keep only things that, in the Japanese organizer's phrase, "spark joy." If you are scaling back from a large home to something much smaller, you must be brutally honest with yourself.  Start with the largest pieces first, then move down to decorative items, books and clothing. Don't forget the kitchen. Will you be cooking as much in your new home? Will you be cooking at all? What are the pots and pans you reach for first? How many cast iron casseroles do you need?
Once you've identified your treasures, invite family members, like your adult children, into the process. Give them colored stickers and ask them to write their name on things they have always coveted. You'll be surprised what they might want.
Photos and Memorabilia
If you've spent a lifetime accumulating physical items, you have also collected photos and memorabilia. This can be a project in and of itself, but the same principles apply.  Sort items into categories – photos, papers, souvenirs – then whittle them down to the most essential. One strategy is to designate one, maybe two, decorative document boxes and keep only that which fits. You'll be surprised how easy it is to pick the most important items. Alternately, or in conjunction, create a "life book" – a scrapbook of photos and documents. Do it yourself or work with a professional photo organizer or scrapbooker.
Sell or donate?
You now know what you're keeping.  What to do with the rest?  Should you sell or donate?
If you plan to sell, factor in the cost of your time. A garage sale is simplest, but you'll have to advertise, put up signs, set up tables, hang clothing, price everything, make sure you have small change, and keep an eagle eye on the proceedings for 4 to 6 hours. You could list items on Craigslist or ebay. You'll have to take good pictures of each item or lot, price it to sell, then respond to individuals, many of whom never show up. There are ebay resellers who will photograph, list and ship your items for a commission, but they usually take only high end items. If the appraiser feels you have enough items of value, an estate sale might be the way to go. There are professionals who stage estate sales and take a percentage. Other options are online auction sites that charge a commission.
If you'd rather donate, call your favorite charity and find out what kinds of items they take. Will they pick up? Some items are difficult to donate, like upholstered furniture, pillows, beds or appliances. In that case, your best bet is a local trash hauler. Separate the e-waste (electronics). More retail locations, like office supply stores, will accept used electronics and cords. Many municipalities have locations for dropping hazardous materials like old paint, and some also accept electronics.
Resources
The best resources are local. If there is a thrift store in your area whose proceeds support a cause close to your heart, use it!! If it matters to you, ask what percentage of the proceeds is allocated to overhead, and how much goes to the cause.
Ebay is good for items that are easy to ship.
The following websites are directories, or general resources for donations:
Donna Smallin Kuper, a fellow organizer, has a great book called "How to Declutter and Make Money Now." She sold a large home, got rid of almost all of her possessions and now travels the country with her husband in a motor home. Talk about downsizing!
National Association of Professional Organizers (NAPO)
Association of Personal Photo Organizers (APPO)
Whatever you do, try to avoid renting a storage unit. If you are optimistically waiting for your furniture to appreciate, your rental costs may negate any eventual profit. All you are doing is postponing the inevitable.
Next: How to maintain a minimized home